Tigers' Catching History Is Rich; Who Will Continue It?
The lineage is impressive, and runs thru generations. In fact, it goes back to the 19th century, when the Detroit baseball club toiled in the National League.
Charlie Bennett was the catcher back then, for the old Detroit Wolverines, and so much was he admired, the franchise named its baseball grounds after him: Bennett Park.
There was Black Mike, Mickey Cochrane, player-manager of the powerhouse teams from the 1930s. Hall of Fame.
When the Tigers contended and made a World Series in the early-1940s, Birdie Tebbetts was the backstop. He wasn't spectacular but he was solid and ended up being a fine manager after his playing days.
The catching pedigree resumed in the 1960s and has continued mostly unencumbered since.
It resumed with Bill Freehan, who gave way to Lance Parrish, who gave way to capable Mike Heath. Brad Ausmus, a defensive wizard, came and went a couple times in the 1990s. Then a dry spell, before Ivan "Pudge" Rodriguez signed in 2004.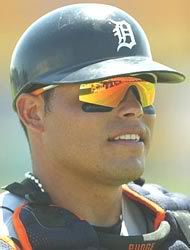 Rodriguez (top) and Freehan: the tradition continues
So it'll be interesting to see who the Tigers follow Rodriguez with behind the plate. Pudge is 35, and though he's in marvelous shape, things can fall apart quickly for catchers that age and above.
There isn't a hotshot prospect, really, wearing a catcher's mitt in the Tigers' system. Hence, it's likely the Tigers' next backstop is currently with another organization. Backup Vance Wilson is terrific in that role, but he's not an everyday player. And he's no spring chicken, either.
The old baseball adage has been true when it comes to the Tigers. Every championship-contending team they've fielded, just about, has been strong at catcher.
Rodriguez, perhaps, is the top man the Tigers have employed at the position, ever. Certainly an argument could be made as such. But whether you agree with that or not, it can't be debated that Pudge is in the top two or three.
Every team has its strengths in franchise history. And its weaknesses. The Yankees have excelled at catcher, too. The Mets have struggled mightily at third base.
I wonder when talk will start to be serious about Rodriguez's successor as Tigers catcher. He's one of the few position players the team has whose future is not likely to last too much longer.
The new catcher, it appears, isn't anywhere in the Tigers' organization currently. Don't say Brandon Inge. Or Chris Shelton. Their catching days are over with. Pudge Rodriguez figures to have three more years, at best, as everyday catcher. After that?
I wonder what age Freehan's grandkids are getting to be.