Blame Broadcasters Drysdale, Kell For Sparky-To-Detroit
A casual conversation at a press box buffet led to Sparky Anderson becoming manager of the Tigers in 1979 -- and kept him from managing the Cubs in 1980.
It's a story I had almost forgotten about, but was reminded of when I cracked open
They Call Me Sparky,
Anderson's authorized biography with Dan Ewald, which was originally released in 1998. I attended the premiere of the book at the Royal Oak Music Theatre, and got an autographed copy. But I digress.
The Tigers were in Anaheim in June 1979, playing reasonably well under new manager Les Moss. Hall of Fame pitcher Don Drysdale was an Angels broadcaster back then, and Sparky was doing TV features for an LA station, having been fired by the Reds after the 1978 season.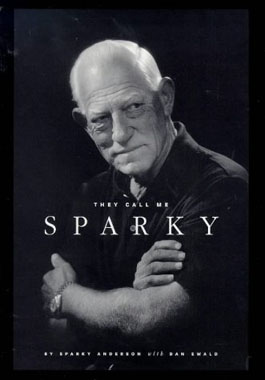 Sparky's book, released in 1998
Sparky told Drysdale that he was set to be the manager of the Chicago Cubs in 1980. A verbal agreement had been reached with the Wrigley family.
Later, in the press box cafeteria, Drysdale saw Tigers broadcaster George Kell and told him about Anderson's gig with the Cubs in 1980. Kell then sought out Tigers GM Jim Campbell and relayed Drysdale's scoop.
The next day, Campbell began peppering Sparky with short, abrupt phone calls -- each one progressing in interest. Sparky initially said he didn't want to manage -- anywhere -- until 1980. He also told Campbell that his asking price was probably too steep for the financially-conservative Tigers. But Campbell persisted. He wanted Sparky immediately, not in 1980.
"There's no way I could look Les Moss in the eye if I knew I was firing him at the end of the season," Campbell told Sparky, according to the book.
Finally, Sparky, impressed by Campbell's diligence, agreed to take over the Tigers the following week, when the team returned to Detroit.
It didn't work out right away. The Tigers went 2-9 in Sparky's first 11 games at the helm.
But it worked out for the next 16 years. And the Cubs lost out -- again. The team that had been cursed by a billy goat was now done in by a press box buffet conversation. Typical.