Monday Morning Manager
(my weekly take on the Tigers)


Last Week: 2-4
This Week: (6/9: CLE; 6/10-12: CWS: 6/13-15: LAD)
The Tigers' lineup is still in flux. Marcus Thames still isn't the leftfielder, really, despite manager Jim Leyland's declaration to that effect a couple weeks ago. Thames plays there, but not all that more frequently than before the declaration. Brandon Inge has disappeared again, not a week after being given another taste of his true love, third base. An injury to his side has contributed to that.
But let's put that aside and talk about something that is sure to be propped up as a sign that help is on its way.
That something is the imminent return of relievers Fernando Rodney and Joel Zumaya to the pitching staff.
It will be hailed as much needed help, and it's hard to argue with that thinking. What team in baseball wouldn't like to have two of their best relievers from two seasons ago return to active duty? Who wouldn't see a boost from something like that?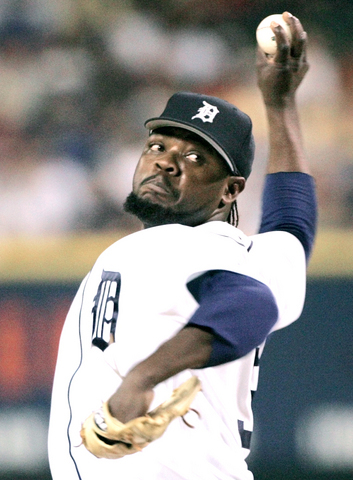 Zumaya (top) and Rodney (above) will be nice additions, but are not the panacea the Tigers need


But here's the rub: it's too late. Too late for Rodney and Zumaya to come in and make a lick of difference in a season that's been careening out of control almost since Opening Day. Too late for them to nudge the Tigers back into playoff contention. Just too late, that's all.
It's too late because neither Rodney nor Zumaya, last I looked, swing a bat -- and therefore are useless to drive in runners from third with less than two outs and to move a runner from second to third and to deliver even one clutch single. Useless.
The Tigers' troubles are flip-flopped, today, from where they were thought to be back in spring training (remember those days, when we wondered about scoring 1,000 runs and winning 110 games?). In March, the hand-wringers fretted over the suspect bullpen -- a bullpen sans Rodney and Zumaya due to injuries -- but had little worry about the explosive offense.
Today, that is flipped, and the team has flopped.
It's the bullpen that isn't so much of a worry, while the offense has been odiferous.
Yesterday, someone named Freddy Dolsi came in during a perilous 8th inning and blew away a couple of hitters on strikeouts, leaving the bases loaded and the Tigers' tenuous 5-2 lead in tact. It was something reminiscent of Zumaya, or Rodney, in their heyday.
But the Tigers are not just a couple of decent relief pitchers away from contention. They're not just biding time until Rodney and Zumaya can get back to work. Their hitting woes won't be any different when Nos. 56 and 54 don their Tigers uniforms again.
Sorry to burst your bubble.
Labels: Monday Morning Manager