If It's February, It's Another Directive To Trade Thames
Marcus Thames is the Tigers' groundhog.
Every year in February, he shows his face, and if he sees his shadow it means six weeks of trade rumors.
We don't even know what the alternative is, because Thames keeps seeing his shadow.
It's already begun for 2009.
Lynn Henning of the Detroit
News
lobbed the first "trade Thames" volley over the weekend
, when he included this among his crystal ball observations:
"The Tigers decide they can't hold Marcus Thames hostage to a part-time position that becomes even more part-time because of Carlos Guillen's move to left field. Mercifully, they find him a new home ahead of Opening Day. It becomes a good deal for both teams when Thames is packaged with a pitcher for a solid infield prospect."
They've been trading Marcus Thames for three years now, and he's still a Tiger. And don't be surprised if he's still in Detroit on Opening Day, despite Henning's and others' directives.
Don't get me wrong; I agree that Thames probably deserves to play more. But it could be that he's best in the role that he's had, which is that of a glorified part-time player who is in scoring position the moment he steps into the batter's box.
Thames, I have long maintained, is the strongest man, physically, that the Tigers have employed since the days of Cecil Fielder, who was the strongest since Willie Horton, who was the strongest of them all when he showed up on the scene in 1963.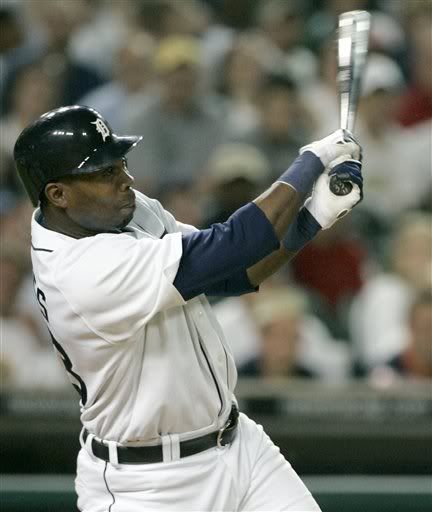 Thames launches another one into the stratosphere
Thames's brute power is almost legendary in Motown. He's averaged an almost Babe Ruthian one home run per 14 AB since he's been a Tiger, including one per 12.6 AB last season (25 HR, 316 AB). And he's done it playing half his games in a ballpark that isn't exactly a haven for right-handed hitters, with its expansive alley in left center.

While it would be nice to give Thames 500 AB and watch the fireworks happen, it's simply not going to happen, as long as Guillen is around to play left field. But Guillen hasn't exactly been the most durable player lately; what happens if his back tightens up or any other of his past ailments flares up again? Isn't it nice to be able to plug a guy like Thames in the lineup?

Selfish? Perhaps. But unless MLB allows four outfielders, a la slow-pitch softball, then Marcus Thames isn't going to be an everyday player. Period. Gary Sheffield, his body willing, is slated to get most of the plate appearances as the Tigers' DH. Thames lugs a first baseman's mitt, too -- so he could spell Miguel Cabrera on occasion.

See? Groundhog Day. The same role Thames has played year after year in Detroit. And that's not bad. There are a bunch of teams that would kill to have a player like Thames on the bench. That smacks of him being great trade bait, but what is it they say about sometimes the best trades are the ones you don't make?

Unselfishly, I'd love to see Thames get his 500+ AB and hit 40-45 HRs. But selfishly, I like him where he's at -- on the Tigers' roster, his right-handed-hitting cannon at the ready.

The media folks -- and some of the fans -- in Detroit keep trading Marcus Thames. I wish they'd stop, because the more they keep trading him, the more likely it is that he actually will be. And something tells me that it will be a move the Tigers are likely to rue.