Stengel, Ruth Almost Became Tigers Managers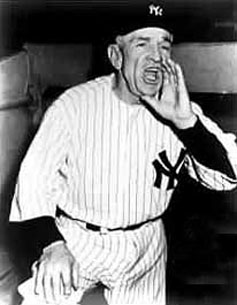 Stengel and Ruth: Their pinstripes almost became Tigers stripes
If Jim Campbell and John Fetzer had their way, Casey Stengel wouldn't have been subjected to the "Amazin' Mets" after all.
The Tigers made a heavy push for Stengel to manage their club, between the 1960 and '61 seasons. And if it wasn't for Stengel's wife, Edna, they just may have pulled it off.
The Tigers were coming off a 71-83 season, in which they actually
traded managers
with the Indians: Jimmie Dykes for Joe Gordon. And maybe a third base coach to be named later. Regardless, 1960 was disappointing, and with Gordon locking his apartment and fleeing town shortly after the season, the Tigers were in the market for a manager.
That's when owner Fetzer set his sights on Stengel, the former Yankees skipper.
The more Fetzer and Campbell and Rick Ferrell -- another front office man -- talked to Stengel about managing the Tigers, the more Casey liked the idea. He even went so far as to name the coaching staff he'd like to have join him in Detroit.
But when Edna Stengel intervened and insisted on a doctor's physical examination, things were put on hold. And, after the exam, Stengel's doctor advised against managing at that time.
Deeply disappointed, the Tigers ending up hiring Bob Scheffing. And, a year later, Stengel's health must have had a miracle turnaround, because he was managing a New York Mets team that was certainly not a prescription for anyone in any sort of questionable physical condition -- or mental.
But that wasn't the first time the Tigers went after a famed Yankee to manage their team.
Twenty-seven years earlier, in 1934, the Tigers dangled their manager job in front of Babe Ruth. Owner Frank Navin received permission from the Yankees to talk to Ruth, who was at the tail end of his brilliant career. Ruth had set his sights on managing years before retiring, and it was his fervent desire to do so that caused him to eventually enter into a fool's agreement with the Boston Braves. The Braves led Ruth to believe he would manage the team if he would only join them as a player for the 1935 season. They led him astray, only signing him for cheap publicity and a temporary attendance boost.
But this was 1934, and the Tigers wanted Ruth to make a decision prior to him traveling to Hawaii for some exhibition games after the 1933 season was concluded.
"I'll call you when I get back," Ruth told Navin.
"I can't wait," Navin said. The talks broke down. So the Tigers turned to Philadelphia A's catcher Mickey Cochrane, hiring him as player-manager. Nice call -- the Tigers won the American League pennant in '34.
Babe Ruth and Casey Stengel as part of the Tigers' manager roster? It wasn't as far-fetched as you think.
Resource for this post: "Fifty Years With the Tigers," by Fred T. Smith
****************************************************
TOP TEN LIST - DAY IIISECOND BASEMEN10. Bobby Grich (Baltimore/California).
Grich was one of the first second basemen to turn the position into one where power was a part of the makeup. He had an MVP-type year for the division-winning Angels in 1979: 30 HR, 101 RBI, .294 BA, .984 (only 13 errors).
9. Dave Cash (Pit/Phil).
Cash was as durable as they come -- amassing 650+ at-bats five years in a row at one point. He could steal bases, field a little bit, and got on base A LOT. Not usually included among the great second basemen of his era, but Cash had a career .283 BA and .984 fielding percentage. Not bad.
8. Davey Lopes (Los Angeles).
Lopes had some of the biggest thighs I'd ever seen on an infielder. And he could fly; an exceptional base stealer. Not known for his glove work, but he wasn't bad, either. More than sufficient power for a second baseman. Often the man who got Dodgers rallies started with his hitting and speed.
7. Willie Randolph (NY Yankees).
Consistent, smart, and quiet -- when the Yankees usually had a storm brewing around him. The Yanks robbed the Pirates to get Randolph, who was so steady and reliable, he wasn't good copy for the New York scribes. But he was a darned good second baseman.
6. Frank White (Kansas City).
Not flashy, not gaudy, but Frank White was as solid as they come at second base. He learned to add some pop to his bat, which meant he wasn't just a #9 hitter anymore.
5. Rod Carew (Minn/Calif).
You can say I cheated by placing him among second basemen, because of all the years he played first base, but Carew started as a second basemen and played several years there. As a hitter, he had few equals. Glove work was not his calling card, but he was above average. His hitting, however, places him this high.
4. Joe Morgan (Cincinnati).
You could put him at #1 and I wouldn't quibble. But Morgan is #4 because he benefitted from being in a powerful Reds lineup that probably added to his production. Still, in the 1975-77 range, Joe Morgan may have very well been the best player in all of baseball -- someone you might build an expansion team around. Slick with the glove and his diminuitive size didn't preclude him from holding his ground during double plays.
3. Ryne Sandberg (Chicago Cubs).
Ryno embodied the Cubs after being stolen in a trade with the Phillies. Smooth as silk with the glove, Sandberg could be poison at the plate, too. He was taller than most second sackers, but that didn't compromise his mobility or range. With the bat, he thrived in cozy Wrigley Field.
2. Lou Whitaker (Detroit).
Okay, so maybe if I lived in Cincinnati I'd put Morgan #2. Or Sandberg, if I was from Chicago. But Sweet Lou Whitaker trumps them both because of hs versatility in the batting order. He was a marvelous leadoff hitter. He could bat #2 or #3 and not look out of place. He even batted cleanup, in 1989. He had some of the quickest wrists I've seen. Defensively, one of the strongest arms of his time -- if not THE strongest. The rap on Whitaker was that he played like it came too easily for him, re: he didn't hustle. I just think he was that good, he made it look easy.
1. Roberto Alomar (Toronto).
An even .300 career hitter with over 2,700 hits. Nine seasons of batting .300+. Alomar had power, speed, and could drive in runs. He fielded the position quite competently. Probably, at his peak, one of the top five players in the game. A sure Hall of Famer.
Tomorrow: third basemen.