Rodriguez, Brinkman Made Left Side Of Tigers Infield Air Tight
Carlos Guillen, the other night, perhaps saved the Tigers from yet more late-inning heroics from Cleveland's Casey $#@! Blake -- who has risen rapidly to being my most-hated big league ballplayer. It's nothing personal -- I've never met Blake nor do I really know much about him -- but he's a Tiger killer, and I have no patience for those types.
Anyhow, Guillen flashed some serious glove as he wrangled a shot hit to him as he played in, with Blake on third and one out. From his knees, Guillen fired the ball to catcher Dane Sardinha, and a neatly executed rundown then occurred, with Blake tagged out by Guillen. Then, the very next batter hit a smash to Guillen's left, and Carlos speared it before throwing a perfect strike to first base. Threat over, inning over. Soon, game over, as Miguel Cabrera smacked a walk-off home run.
Earlier in the season, when things were rotten, I recall Guillen making a crucial throwing error in Minnesota on a Sunday afternoon that helped complete a big Twins comeback as they swept the Tigers one series after Detroit swept the Yankees in New York.
Guillen, the Tigers' accidental third baseman, and Edgar Renteria, the creaky shortstop, haven't exactly been Gold Glovers in 2008. They've been OK, but nothing more than that, really. Guillen's back-to-back gems Wednesday night notwithstanding.
In fact, the Tigers haven't had a truly airtight left side of the infield since the days when Aurelio Rodriguez and Eddie Brinkman patrolled third and short, respectively, in the early-to-mid 1970s. I know, I know -- what about Alan Trammell? Well, Tram was very good, no question. But 3B Tommy Brookens, though he tried hard, couldn't match Rodriguez in terms of range or arm strength. Especially arm strength. Rodriguez threw lasers to first base.
Brinkman, for his part, once went over 90 consecutive games without committing an error.
The trouble was, neither man was much of a hitter. In fact, there were some years when they were both awful, their averages in the low-.200s.
In today's game, teams seem to be willing to sacrifice defense for the sake of a good bat. They appear to be leery of "wasting" a spot in the batting order on a good field, no hit infielder -- at least not for any length of time. You can partly blame Trammell for that, and Cal Ripken, Jr. -- men who began to re-define what a shortstop should be. Frequently, the SS was the weakest hitter on the team, often batting eighth (pre-DH) or ninth (post-DH). But players like Tram and Ripken came along, with their near-.300 batting averages and their decent power, and teams got greedy. Not only did they want production out of the corner infielders, they looked for it from their shortstop, too. So young players were drafted with that in mind, and the star players in high school were often the shortstops. Today, it's simply not acceptable to employ an everyday shortstop who cannot hit.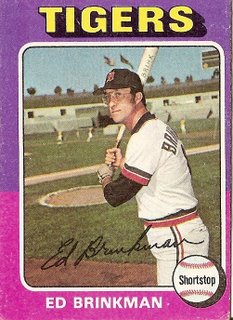 Brinkman (top) and Rodriguez were two human vacuum cleaners for the Tigers

But back to the defense. The Tigers lost a lot of games earlier in the season because their defense failed them. It's still happening; witness OF Matt Joyce's mind-boggling blunder in the ninth inning yesterday. But the miscues had often come from the infielders. And Guillen and Renteria could hardly be judged as innocents.
But they have a resume of hitting, and so defense is not the priority. Although both men are probably considered above average nowadays. Trouble is, nowadays standards aren't as high as they used to be when it comes to glove work.
Rodriguez died tragically in Detroit nearly eight years ago when he was struck by a car in the southwest/Mexican portion of the city. The driver, it was suspected, had suffered some sort of medical emergency and veered onto the sidewalk, striking Rodriguez. He was 52 years old.
Brinkman was traded to the San Diego Padres after the 1974 season as part of the trade that brought bust Nate Colbert to Detroit. San Diego almost immediately traded Brinkman to St. Louis. In '75, Brinkman played for the Cardinals, the Texas Rangers (one game) and the New York Yankees. He was out of baseball before the '76 season, just 34 years old.
I saw Brinkman at Tiger Stadium, back in 1990. I ended up sitting behind him; he was working for the White Sox as a scout. I remember telling him that the Chisox, at the time, appeared to be an up-and-coming team with a lot of good, young talent. He agreed and said he thought the team could win big soon. They ended up capturing the AL West title in 1993.
There weren't many big moments with the bat from the 3B and SS when Rodriguez and Brinkman played in Detroit, but thanks to them, there were that much fewer for the opposition, too.