Moe Berg: Baseball's Only Governmental Spy
I encourage anyone who has a soft spot for some of the oddities that make up baseball history, read about the story of Moe Berg.
Berg was a rather nondescript catcher in the 1920s and 1930s. But that was hardly where he made his name. A voracious reader of newspapers and a world traveler, Berg enjoyed the amenities that came with being a big league ballplayer. And his fervent interest in world affairs and other cultures (he could speak many foreign languages), plus some inside connections, led to Berg becoming a spy for the United States during World War II.
Berg's life reads like a fiction novel: there's romance, intrigue, inner struggle, and Berg himself was a mysterious figure -- even to those who supposedly knew him the best. He seemed to regale in his role as an undercover figure, mainly because that's how he lived most of his life. His teammates recall Berg being not necessarily UNfriendly, but certainly not all warm and fuzzy, either.
I'm reading about Berg in a book called
The Catcher Was A Spy,
written by Nicholas Dawidoff. It's a fascinating tale -- and I think what makes it such is that it's true, not fiction like it would appear. It's also a return to a time in baseball history, and indeed U.S. history, that will probably never be re-lived. Can you imagine Brandon Inge or Paul LoDuca moonlighting as government spies?
If you can find the book (try
Amazon.com
), you may think that some of the passages are long on detail and short on substance; in other words, the book can be slow-moving at times. But the trade-off is that Dawidoff does a great job placing you in Berg's world; sometimes you feel like you're with Moe as he sips wine or beer in France or elsewhere, and lounging with him as he reads one of his dozens of newspapers.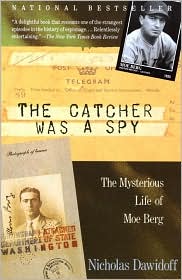 Berg, who died in 1972 at the age of 70, was a lifetime .243 hitter over 17 big league seasons. He was no baseball star. But he actually used that backup player status to his benefit, blending in during barnstorming trips to Japan, for example -- where he was able to use his 8mm home movie camera to shoot footage that helped make him attractive as a potential spy.
If you're tired of the typical baseball-only book, I recommend
The Catcher Was A Spy.